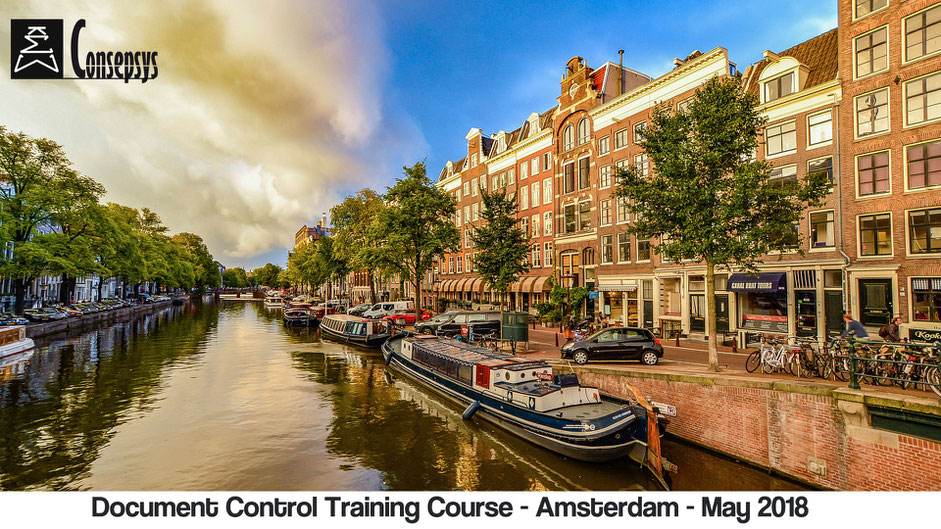 Both courses (DCC & DCA)
Amsterdam, Netherlands
14-18 May 2018
5 days
€ 2136 (Euros) - Convert 
Early Bird Discount (10%) till 03-Feb-2018 - reduces fee  to € 961 per course (€1922 for both courses together)
---
More information
Course Brochures
Below are the links to download the brochures and the course catalogue:
Course Fee
The course fee is EUR 1068 (euros) and includes tuition, course material, certification examination (for the DCC course), coffee/tea breaks, lunch, taxes.
How to enrol?
Fill out the registration / enrolment form here: http://www.consepsys.com/contact-us/ (make sure you select the "Course Enrolment" option on the top of the form).
*** Limited seats available - Enrol as early as possible ***
Where?
Amsterdam, Netherlands
Course Provider
Consepsys Limited - The Document Control Professionals
Leading Provider of Document Control Courses & Certification Body - Worldwide
UK based company, we travel all over the world to train and certify professionals
Worldwide leader in professional best practices in Document Control.  
We play a central, global and active role in disseminating and collecting the very best practices

 around the world.

 We promote strong values and a responsible Document Control approach, attitude and philosophy

, which carefully take into account safety, business, project, engineering and quality considerations
Typical course schedule 
DCC and DCA can be taken separately. If you wish to attend both, they can be taken within the same week.
Client Reviews