A constant struggle that Document Control professionals talk about a lot is the difficulty in getting people (e.g. authors or external suppliers) to submit their documents on time and well in advance, so that Document Controllers can have the time to check the documents, to send them back for modifications if required, and to get the document ready to be transmitted or distributed by the day on which it is actually due.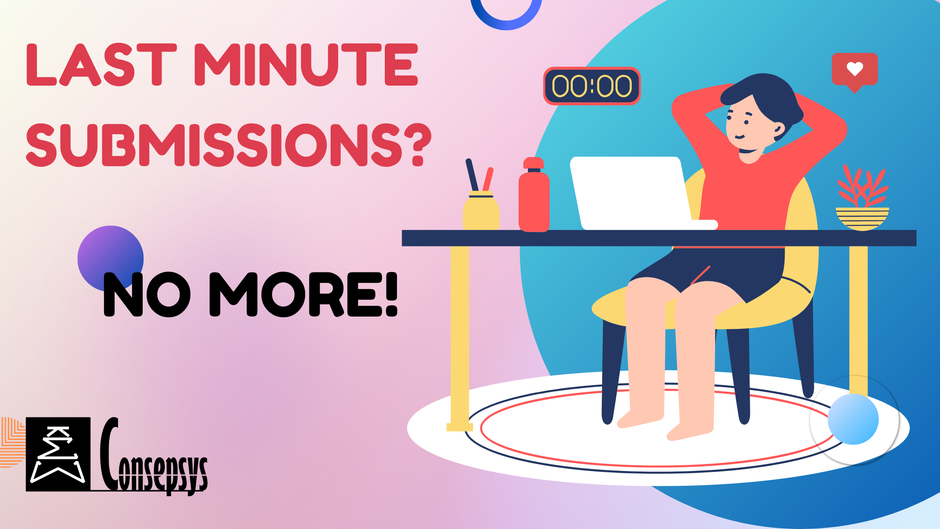 A lot of the time, Document Control professionals receive a document right on the dot of the official deadline, giving them absolutely no time to check and to send it back in case of errors; this puts Document Control professionals under much pressure and, sometimes, unfortunately, some may be tempted to take shortcuts with quality, integrity and compliance, which may have very damaging consequences ultimately.
This issue is so frequent that, in a recent poll on LinkedIn, the results were astonishing: 
75% of Document Controllers said that their interfaces very frequently submit their documents at the last minute (more than 50% of the time), with even 23% who said that it happens every single time.
It's also interesting that only 4% said that it rarely happens!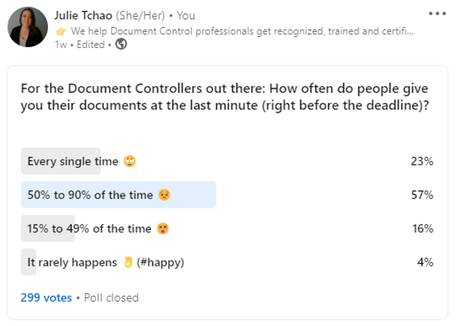 So, in the face of this very real issue, what can we do? There are indeed very effective ways to reduce the occurrence of this kind of problem; let's see five examples below:
#1 Set clear expectations
Set a clear deadline for authors: they must provide you with the document within a pre-determined number of hours before the actual deadline – for example, 24 hours prior: if the document is due to be distributed or transmitted on Friday, then the author must send it to Document Control on Thursday by 10 am. This kind of rule is commonly known as "Document Control turnaround time" or "Document Control cut-off time".
Some of you will say, "Whaaaat??? I can't do that, there will be a riot in my office!"; but when you think about it, authors typically have several weeks to prepare a document, therefore how is it possible that they submit it to you at the last minute (typically at 5 pm on Friday)?
Some of you may think: "How can I justify such as rule to my stakeholders?"
With postal services, UPS or DHL, people are used to deadlines and they accept that a parcel will be processed and expedited on the following day if it is submitted after the deadline. So, why would it be "not justifiable" for Document Control to have cut-off times and dates?
Don't be afraid to negotiate the means to do a good job. As long as people know about the Document Control cut-off time in advance, there is no reason why they can't integrate it into their schedule.
It's all about setting clear expectations: if you don't spell out the rule clearly and if you don't explain what actions you need to take, then it's possible that your interfaces don't realise how long the process takes you after they have submitted their document to you!
#2 Educate your interfaces
A lot of the stress caused by deadlines is due to a lack of understanding or knowledge of our interfaces:
Make sure they are trained to self-check their work and provide them with checklists
Enforce that they self-check before submitting a document to you
Educate with flowcharts about the tasks that you will perform after they submit a document to you
Regularly train them on the steps they must take, the most frequent problems encountered, the tips and tricks to get their document issued quickly, etc.
Communicate about best practices and lessons learnt at every opportunity that you have 
#3 Advance notifications
As a Document Controller, you probably have the list of documents with expected delivery or submission dates. That allows you to be proactive and to send friendly reminders in advance to authors, to let them know that you are expecting their document by a specific date and time. These notifications can be easily automated, therefore those advance notifications require minimal effort on your part, but they will make a massive difference in the flow of documents.
#4 Clear rules
Once you have set your own turnaround time and educated authors about it, then rules must be spelt out and communicated explicitly, for example:
If a document is due to be distributed on transmitted on Friday, then authors must submit it to Document Control by 10 am on Thursday.
Any document received after the Document Control cut-off time will be processed as and when it is possible, and authors must be aware that it might be distributed or transmitted one working day after the day that they had in mind.
#5 Understanding of the entire workflow
Sometimes an author thinks that once they have submitted their documents, the work is over…
It demonstrates a lack of understanding of the entire workflow as well as a misconception about how many people will need to get involved after they finish their work: there might be an admin involved with the finishing touches, a Document Controller for the quality, compliance, integrity and traceability checks, a content checker, an approver to authorise the publication of the document… and that is just what would happen BEFORE the document would be ready to be registered, uploaded and distributed…
Therefore, it's the responsibility of Document Control to ensure that users and interfaces understand that the process does not end once their own involvement is over.
Other tips?
What are your tips to avoid last minute submissions of documents? Let us know in the comments!
---