We have investigated and asked various managers of Document Controllers what they expect from their team and how Document Control fits into the Company.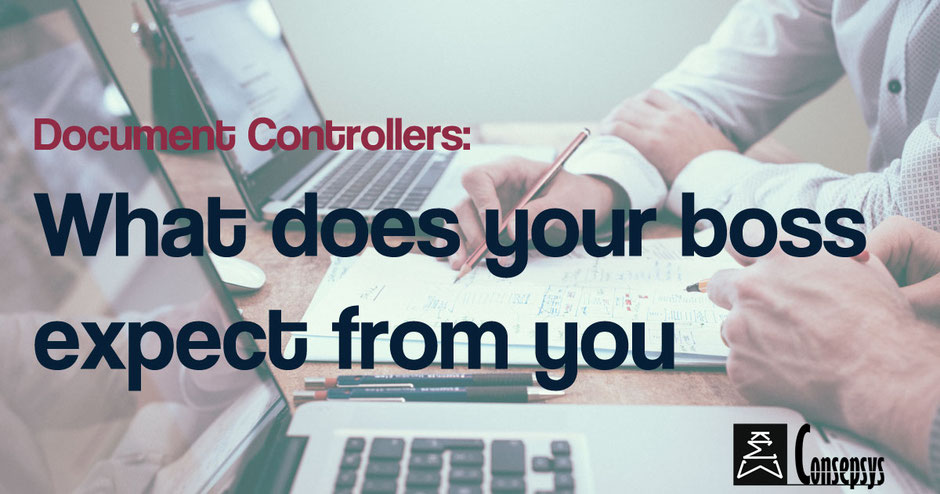 Document Control is critical to most companies: protection of companies' interests, traceability, collaboration, information sharing, retrieval of documents and data, protection of critical information, company reputation, regulatory and contractual compliance and protection… are all excellent reasons why Document Control can be vital to a business.
But are Document Controllers aware of what their boss expects from them? How to ensure that you meet your manager's expectations?
Providing a service to the business
Document Control is a service function as much as a control function.
In this frame, managers often expect from their team  the qualities of a service provider.
Hazel, who is Information Management Coordinator in an Energy & Services company in the UK said that she expects her Document Controllers to be "hard working, diligent, helpful, flexible and pro-active". 
Hazel also told us that one of the qualities that she expects is the understanding of the Company's assets. And this is an important point, that has been stressed by many managers.
Mark, for example, who is Quality Manager in Singapore, and in charge of a team of a Document Controllers, explained that his best Document Controllers are "those who understand the business of the Company, and who pro-actively propose solutions based on best practices to tackle the specific challenges of the Company".
Every Company is specific, and a good Document Controller knows how to adapt his/her practices to the specifics of the Company while ensuring DC best practices are protected.
Compliance-oriented and good gatekeeper
But Document Control is much more that a clerical position, and its value to the business is not only a support / service one, but is directly linked to the protection of the Company's assets and interests: by ensuring that the critical documentation and information of the company is safe, filed, checked, registered, traceable and put through the companies gated processes, Document Control ensures that the assets are protected and that, in case of a safety and / or legal incident we are able to provide evidence and information on the incident.
Top 5 expectations from
Managers of Document Controllers
1. Service-Oriented
2. Pro-Activeness
3. Quality Mindset
4. Knowledge of Best Practices
5. Compliance
Meet a Manager of Document Controllers
Joseph tells us how important Document Control is and what he expects from his Document Control team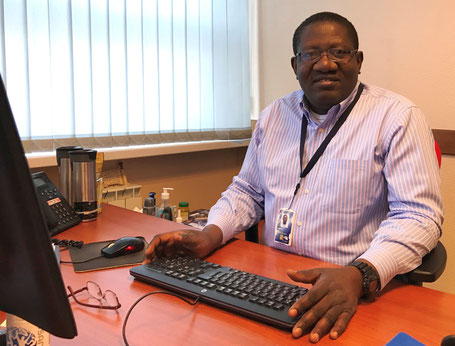 Joseph Adeboye
Business Integration IM Manager
at Sakhalin Energy Investment Company Ltd (Oil & Gas Industry)
Can you tell us a bit about you?
I have an honours Bachelor's Degree in Electronics and Computer Engineering (B. Eng Hons) and a Master's in Business Administration (MBA).
I have been in the Oil & Gas industry since 1992 in various roles ranging from core IT/IM to business interface in subsurface and production engineering.
I have also worked in several countries – Nigeria, United Kingdom, Netherlands and Russia.
What is your current role?
I am the Business Integration IM* Manager.   I am responsible for managing Projects Information for my company.
I manage a team of IM* Leads, Document and Data Controllers.
The team specifies and controls information (documents and data) during the project phase, and ensures handover of the same to Asset Operations without quality degradation, at the end of the project. We also feed DC resources into capital projects.
 *IM = Information Management
How does Document Control fit into your department / company (reporting lines)?
Document Controllers report through IM* Leads and the IM* Manager into the Projects Engineering Manager, who in turn reports to the Production Director.
  *IM = Information Management
Why is Document Control important to your company? How do Document Controllers contribute to protecting the interests of your company?
Document Control enables the company to demonstrate compliance with regulatory requirements, which can have an impact on our licence to operate.
It also ensures that asset information can be trusted by operations and that assets can be operated safely by managing the process that evergreens this information with every project activity.
It prevents costly reworks in plant modification activities by ensuring that new designs are based on high-quality information.
What is the scope of Document Control under your responsibility?
All Brownfield projects design documents – number allocation, review and approval; vendor documents review and approval for internal procurement; storage/archiving for contractor-sourced ones; processing all red-line-marked-up documents for as-building.
What qualities do you expect of a Document Controller?
Discipline, knowledge of the rules and firmness in enforcing them.
Diligence and thoroughness – avoiding mistakes – and ability to communicate effectively with a wide range of stakeholders.
Some understanding of project engineering processes.
Document Control: A vital discipline
Throughout the interviews that we ran with various managers of Document Controllers, we were glad to see how important Document Control is to them and the companies they represent. This awareness goes a long way in the promotion of our discipline, throughout industries, countries and companies.
Other blog articles that might interest you: