| FEATURE ARTICLE |
Find out how to become a Document Controller and how to further your career in the Document Control profession.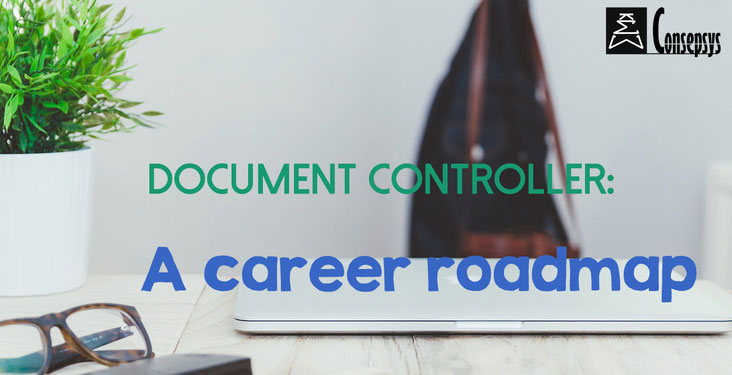 First things first: What is Document Control and what is the job of a Document Controller?
We have defined in previous articles what is Document Control here and what is the job of a Document Controller there.
What is a Document Controller?
The Document Controller is in charge of the control and of the daily management of documents on a Project / in a Department / in a Company.
The main tasks of a Document Controller are:  
Numbering & identification of documents
Quality & compliance checks on documents
Filing and organisation of documents (both electronic and / or hardcopies)
Control over documentation modification, distribution, issuance (as per procedure) during its whole lifecycle
Maintenance of a list (register) of applicable documents
Distribution of documents to relevant people / organisations
Progress reporting on the documents status / maintaining KPIs (Key Performance Indicators)
For a more in-depth definition of the job of a Document Controller, read the "Job Description of a Document Controller" article.
Where does a Document Controller work?
The Document Control profession exists all over the world and in a wide range of industries.
To have a better understanding of which industries and what does the job entail, we invite you to read the article "Job Description of a Document Controller".
What are the requirements to become a Document Controller?
Degree Level

There is no degree or diploma specific to Document Control, it is a job that most have learnt "on-the-job".

 

For that reason, a degree is not always required, but most employers prefer an applicant who has attended a training course in Document Control, and who holds a professional certification in Document Control.

 

Experience

Experience working in Document Control is appreciated by most employers.

 

It is however one of the work area where skills, attitude and personal qualities can be perceived by potential employers as more relevant than experience: this gives a chance to everyone, including beginners (especially when applying for a junior position).

 

Key Skills

Attention to detail | Quality mindset | Compliance mindset | Ability to follow procedures and processes | Computer litteracy |Strong verbal and written communication skills | Interpersonal abilities | Consistency | Integrity | Multi-tasking | Responsiveness | Risk and safety awareness | Patience | Pro-activeness

 

Salary (2020) *

$38 738 annually (US Dollar) or £ 30273 (Pound Sterling)

(this is an average salary - all world countries and experience aggregated)

 

You can find a more in-depth salary report and country-by-country data here: Document Control Salary Survey Report (including data for the USA, UK, Europe, UAE, Singapore, Malaysia, etc)

 

* Source: Consepsys Annual Salary Survey for Document Control Professionals (link)
Career Path & Progression
Many Document Control professionals have started with no formal training and have learnt "on-the-job" (being sometimes guided by another Document Controller, or sometimes with very little guidance or support from colleagues / managers).
But being a good Document Controller is not only about performing daily tasks. It is also about understanding why we do things a certain way, and what are the best practices in the field (this also allows to compare your actual practices with the best practices).
For that reason, although a degree is not always required, most employers prefer an applicant who has attended a training course in Document Control, and who holds a professional certification in Document Control.
This allows recruiters to be certain that the potential candidates have a strong theoritical and practical knowledge, and that their knowledge is transferable to any company.  To read more about how recruiters work and how to ensure that your CV / resume gets selected, you can read our article on "Winning the Job Race".
Step 1: Attend a Document Control training course
A Document Control training course such as the "Certified Document Controller Training Course" is applicable in two different situations:
If you are a beginner or junior Document Controller, the Consepsys course gives you a robust foundation for the profession, explains all the tasks and responsibilities, and contains numerous workshops and tutorials. By attending the course, you acquire competencies that can be applied to day-to-day work. It will give you the tools and theoritical knowledge to tackle any new DC issue or challenge.
If you are an experienced Document Controller, the Consepsys course  will consolidate your basics and understanding of the fundamental concepts in Document Control, it will allow you to compare your experience with the best practices and with practices of other companies. It also gives you the opportunity to formalise your existing knowledge and to deepen your competences. It will give you the tools and theoritical knowledge to handle any tricky situation or question (as we all know this happens quite a lot :-) ).
Finally it gives you the opportunity to ask any question you have ever had on Document Control to experts in the field, and to finally get answers.
Step 2: Obtain the certification in Document Control
To formalize your knowledge and experience, the next step would be to get certified.
Consepsys is the internationally recognized certification body in Document Control.
To get certified, you would have to sit our formal Certification Examination, which will test & certify your knowledge with theoretical questions as well as practical tasks. 
The Consepsys certification programme that is a unique framework to assess the knowledge and competencies of participants. It has been adopted by an impressive list of major international companies (have a look at the list of some of our clients who have taken up our certification programme).
The exam is included in the schedule and fee of the "Certified Document Controller Training Course".  You can attend the Examination only (without attending the course), but it is highly recommended to also attend the relevant course as it prepares participants for the exam.
Step 3: Obtain a strong experience as a Document Controller
Building your career as a Document Controller often rhymes with building a set of skills, working in different work environments, in order to be exposed to variety of practices, tools, challenges, practices, users.
Manage your skills to develop a strong, transferable skill set over time.
The Consepsys Competency Matrix for Document Control professionals is the best tool to manage your skills: it helps you identify the skills that you need, to assess your level of ability for each skill and to plan your skill progression. 
The Document Control profession can be very varied: you can work on a project or in a non-project environment (e.g. in a department, or for operations), you can work on the Client side or on the Contractor side (or sub-contractor, supplier, vendor, etc), you can work in a variety of industries too...
The more exposure you get to a variety of environments, the better. 
Step 4: Further career progression in the Document Control area
After a few months / years of practice, you may want to improve your knowledge and practice to further your career in the Document Control profession.
Again a great way to improve your practice is to attend a more advanced course, such as the "Advanced Document Control Training Course", which helps deepen competencies with non-routine tasks that most senior Document Controller get exposed to at some point: writing DC procedures, giving DC instructions to contractors or suppliers, issuing and monitoring KPIs and statistics, issuing reports on the documents status, raising awareness within the company (and sometimes convincing users to follow the DC rules!), etc.
Another big benefit of attending a training course is that you get to network with other DC professionals, to share best practices and, last but not least: to speak the same language with other people for a few days, as David eloquently explains below:
"It's absolutely amazing and first class from start to finish. This course was certainly refreshing in meeting, and exchanging experiences with like minded professionals from all corners of the world. Sort of like a private "think tank" as we could literally use the Document Controller jargon without having to breakdown or provide explanations while debating a hot issue.  During my time at this workshop I fostered great friendships with some of the world best and brightest in this industry.  The discussions are very engaging, informative, and entertaining." (Read the full story here) 
Evolving to a Leader / Manager position
A natural career progression for senior Document Controllers is to evolve to a team leader position or a Document Control manager position.
Although it seems like an obvious and clear career progression, being a team leader or a manager is very different from being a Document Controller (even a senior one): the tasks are different (setting objectives, monitoring performance, reporting capabilities and progress, calculating workload, organising resources and tasks, etc) and it requires a different skill set...
It is therefore a career move that has to be accompanied in order to get all the tools required to succeed. The "Certified Lead Document Controller Training Course" has been designed specifically for that.
It aims at preparing Document Control professionals to manage and lead teams of Document Controllers, to manage and organise DC activities and tasks, to manage stakeholders, to communicate DC requirements and processes, and to run, implement or improve Document Control management systems (procedures, tools, software, etc).
The "Transitioning to a Manager Position Training Course" can also prove extremely valuable to progress one's career: indeed, moving up to a Manager position requires a profound change of mindset and perspective. Participants are guided to learn to slip into their new role as a Leader, with a better understanding of team leading, business administration, commercial and strategic concepts.
Other career evolution paths
Some Document Control professionals evolve to other disciplines after a few years in the field (for example, evolving to data management, cost control, project management, etc.)
The issue #7 of the "Document Control Tribune" published a map of the various possible career paths (page 7). It can be downloaded here.
Other blog articles that might interest you: