| FEATURE ARTICLE |
After having defined Document Control in a previous article, we will now define what is specific to the role of a Document Controller and propose an example of a typical Document Controller's job description.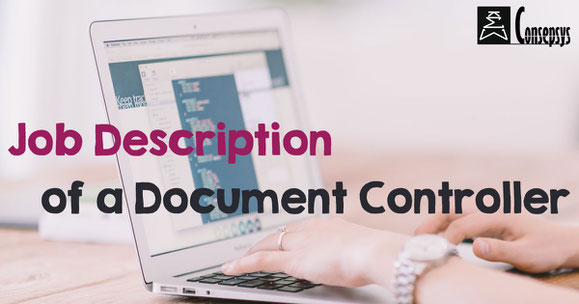 What does a Document Controller do?
The Document Controller is in charge of the control and of the daily management of documents on a Project / in a Department / in a Company.
Their typical activities include:
Numbering & identification of documents
Quality & compliance checks on documents
Filing and organisation of documents (both electronic and / or hardcopies)
Control over documentation modification, distribution, issuance (as per procedure) during its whole lifecycle
Maintenance of a list (register) of applicable documents
Distribution of documents to relevant people / organisations
Progress reporting on the documents status / maintaining KPIs (Key Performance Indicators)
Each company having specifics, the actual job description can vary quite a bit from a company to another, and can sometimes entail less or more than the tasks listed above. However the above list captures the essential tasks of the profession.
Where can we find Document Controllers jobs?
The Document Control profession exists all over the world and in a wide range of industries.
Document Controllers mainly work in industries involving design, engineering, construction / fabrication / manufacturing and/or operations, such as (but not limited to): aviation, nuclear & power plants, oil and gas, mining, renewable energy, construction, rail, infrastructure, pharmaceutical, architecture, defence, food and beverages, medical devices, manufacturing, etc.
A growing number of industries is now adopting Document Control, especially nowadays with the growing needs in controlling documentation, information and data in a world where the abundance of it makes it difficult to manage.
With regards to "where", in terms of countries, the annual Consepsys Salary Survey for Document Control professionals typically receives contributions from over 50 countries, distributed on all continents: this shows how wide-spread Document Control is.
What are the qualities required to be a Document Controller?
The Document Control profession is part of the wider families of Quality Management and Document Management.
As such there are key qualities and personality traits that are helpful to have. There is quite a good list here: "Becoming a Document Controller: a career roadmap".
Is it an office based job?
The Document Control profession can actually be very varied and DCs can work both in an office or on site, depending on the requirement of their respective companies.
The annual Consepsys Salary Survey for Document Control professionals reveals that 70% of Document Control professionals work in offices, while 30% work on-site (the "site" itself can be very different from a job to another, it could be for example a construction site, a yard, a plant, an offshore platform, a FPSO, etc).
What are the typical interfaces of a Document Controller?
They are extremely varied and that is actually one of the big benefits of the profession: no two days are the same, and you get to interact with a wide range of people. 
The interactions, again, would depend on the specifics of the job environment, but typically a Document Controller would have:
Internal Interfaces: with authors, engineers, managers, technical teams, users, etc.
External Interfaces: with clients, contractors, sub-contractors, vendors, etc.
What are the possible career evolutions?
Typically, the Document Control professional starts as a Document Controller (or junior Document Controller) and evolves to a Senior position.
It is then possible to evolve again to a Lead position (involving leading a team of Document Controllers) or even to a Document Control manager position.
The difference between the different roles is described here.
The career path and tips on how to further your career in the Document Control profession are described in a great article on the career roadmap of a Document Controller.
How can I become a Document Controller?
To find out more about how to become a Document Controller and how to evolve in the Document Control profession, you should read the article "Becoming a Document Controller: a career roadmap".
You can also have a look at the Certified Document Controller Training Course, which is excellent both for:
Beginners in Document Control: the course gives a robust foundation for the profession, explains all the tasks and responsibilities, and contains numerous workshops and tutorials. You will acquire competencies that can be applied to day-to-day work.
Experienced Document Controllers: Most Document Controllers learnt the discipline 'on-the-job'. This course consolidates basics, formalises knowledge and deepens competences. It allows experienced Document Controllers to compare their experience with common / best practices.
Other blog articles that might interest you: